Julie became unemployed to look after her children and has been out of work for 6 years. Pri-or to becoming unemployed she enjoyed working in customer service and achieved great job satisfaction from this. Julie then relocated so this was another barrier that she found getting back into employment.
Julie said: I heard about the Returneeship course via my work coach at the job centre in Halifax, I was advised that the course was a totally different course, so this got me really intrigued. I was a little nervous on the first day however 'The tutors were all so friendly that you could not, not feel welcomed.' I got involved in the show by taking part in the omelette challenge & I was also the presenter on the show. 'I absolutely loved it.'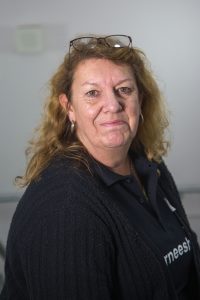 I found that before doing the course I was going into hibernation, so 'the course has really helped me to gain back my confidence.' I was happy to be given the opportunity to re-connect with people and gain new qualifications. 'All the tutors each one of them were fabulous.' In summing up the course Julie said 'I absolutely 100% would recommend this course to others to do. It was just so amazing,' It was very friendly but professional and I am just so happy it gave me back my confidence which has helped me back into employment. I am now working for Gregg's & have been for the past 7 months! – Fantastic News!