Ryan became unemployed after a warehouse role didn't work out and he ended up been unemployed for 6 months. Ryan heard about the Returneeship through his work coach at the job centre, after realising that it was better to further his learning when unemployed, he signed up.
At the beginning of the course I initially felt nervous, when walking into the Shay Stadium I realised I was the youngest there, which unsettled me at first. I got involved from the off and cracked on, "it was great as I made friends with everyone regardless of the age difference". I took on the role as a photographer, which I really enjoyed and it allowed us to get out and about. During the first two days of the course I learnt about the importance of been confident and speaking to a variety of different people.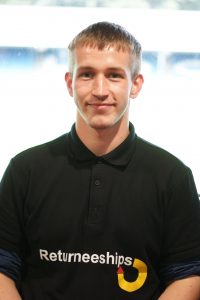 The Retureeship course has allowed me to close a gap in my CV, instead of working I have learnt instead which has been invaluable. The classroom based group exercises have allowed me to communicate with different people, and I have now gained the confidence to talk in front of a group.
To summarise the course Ryan said: "The course itself has been really helpful in more ways than one, when you get there everyone has a common aim of getting back into work. But by getting past that, I have learnt that you can make friends regardless of age, experience, knowledge or background. You can work with each other's strengths and build each other's confidence, this in itself has been important for me".
Ryan has now gained employment with a care agency and has worked in various roles. He is now hoping to develop his career into a senior care position in the future – fantastic news.