Caroline A – Care Visions at Home Ltd (Newcastle Branch)
Originally from Lincolnshire, Caroline moved to the North East ten years ago. She studied for a BTEC Diploma in Performing Arts at college and following this successfully achieved a BA Hons in Performing Arts at university. Choosing to stay in the North East, she worked in bars, cafes and restaurants, while accepting acting work as often as she could. Trying to pursue a career in acting proved too unpredictable, and in Caroline's words she needed 'more solid work'. She became a supervisor in a cafe, then assistant manager and had plans to open a cafe of her own.
However, Caroline had a 'eureka' moment whilst watching an episode of 'Call the Midwife' which triggered midwifery aspirations. On reflection Caroline recognised nursing was becoming more of an interest generally. She left her position at the cafe soon after and started employment as a Healthcare Assistant with Care Visions at Home in September 2016 and hasn't looked back since. She fell in love with this type of work. Caroline says it is difficult for her to put into words h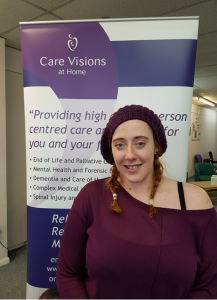 ow much satisfaction she gets from helping to look after people.
Caroline was advised if she was to be successful in gaining a position to train as a nurse, she needed the experience that her role at Care Visions provided, but also some qualifications. Keen to accept training opportunities offered to her through work, Caroline commenced an Advanced Apprenticeship in Health and Social Care with Release Potential. Subsequently she was offered places to take a BSc in Adult Nursing at both Sunderland and Teesside Universities respectively, pending completion of her apprenticeship.
Caroline commenced her nurse training in September 2018 a route which will allow her to follow the career path she has her heart set on. As Caroline said she would not have been able to go to university without the combination of her employment at Care Visions, and the opportunity to take her Advanced Apprenticeship in Health and Social Care. She intends to continue her employment at Care Visions whilst studying at university.