Everton enrolled on our Returneeship programme back in March 2022 and on our course was introduced to the prospect of working at the Commonwealth Games in Birmingham. After making an expression of interest he has now secured a position within the Games as an Operations Co-Ordinator. Read Everton's full story below!
What were you doing before you started the programme?
I've been employed in a variety of roles throughout my life to date. This has included working in public administration, as a shift manager with the Royal National Institute of Blind People, as a shift manager in a Soho bookshop, customer-facing roles in contact centres, and as the general manager of a bar. I was made unemployed in 2019.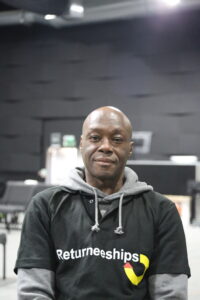 How did you find out about the training?
I received a message about the training in my Universal Credit journal and thought the course looked attractive. My Work Coach, Joanne also recommended Release Potential Ltd to me as a provider.
Why did you decide to join?
I chose to take part in the training because I liked the prospect of an interview at the end of the course, and I wanted to gain an IT qualification. My IT skills were what I felt I needed to improve the most and wanted to learn some new skills to take this forward.
What did you think of the training? How did it help you?
I thought the activity we completed at the start of the training was good for team building. On the course, I obtained an interview with a brewery company, and as part of this was asked to produce a presentation on Google slides. The course and the support from James helped me to do this and gave me a skill I could use again in the future. The tutors were incredibly patient and helpful.
What are you doing now?
I'm employed as an Operations Co-Ordinator with the Gi Group, the official recruiter for the Birmingham 2022 Commonwealth Games. I work in Fleet Services and am responsible for pool vehicles for staff, car parks and parking, vehicle mileage and movement. I have been in post for a week, starting well in advance of the Games, with the role lasting into September.
What impact has the training had on your life?
The IT aspect of the course has helped me to improve my IT skills. I also thought the course taught me further about teamwork and good communication. My mind was set on being involved in the Commonwealth Games before I started the course, and I think the experience gained in the varied range of jobs I have held in the past helped me to obtain my current role.
What are your plans for the future?
I've found a great opportunity in my current Operations Co-Ordinator job, and if possible, I would like it to roll on in some way. I'm going to dig deep, learn a lot and see where it takes me. The Gi Group is already sending us emails about opportunities after the Games. I've noticed that some of my colleagues have moved from one set of games to another, often in different countries, and I like the possibility of what that would have to offer in the future.
What would you say to someone who was thinking about doing the training but wasn't sure?
You've got nothing to lose. It takes you out of your comfort zone and encourages you to converse with people. It helps to bring you out of your shell, gain life skills, and learn from the different experiences people share.